AURA INC. is commited to providing the highest quality products and services. Quality is designed into an AURA product at every stage from conceptual design through to manufacturing and testing. Tha quality effort is headed by G.G.Arora, our Quality Assurance Manager and reports directly to the CEO. He has over eighteen years of experience in all areas of the quality process. Regular Quality Review meetings are held to ensure that quality remains the first responsibility of every AURA team member.
Aura Quality Assurance Program
As part of AURA's standard Quality Assurance program, all products conform to various test procedures as adopted and laid down by such standards as ANSI, ASTM, ASME, BS, DIN. The tests as specified and carried out include:
Visual inspection of raw material


Ultrasonic testing of raw material


Chemical analysis


Dimensional check


Thread Go/No Go check


Pneumatic pressure test


Impulse test


Pressure impulse test


Vibration test


Make & break hydrostatic test


Wet calibration of flow elements


Temprature cyclic test


Helium leak test


Radiographic test for welds


Crush test


Blend test


Tensile test


Flexibility test
Aura Quality Assurance team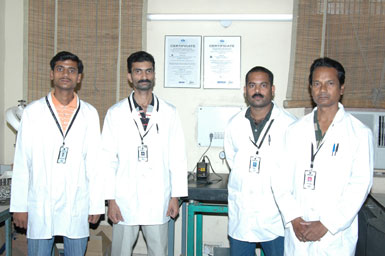 Nothing non-conforming gets past them !!!!